I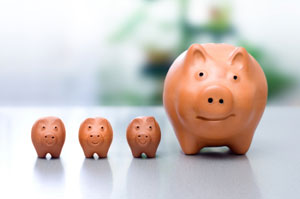 n my previous blog I mentioned interest rates, but didn't quite explain what it is exactly. There are basically two ways of earning interest, both benefit you and your account, though one way has a much bigger impact. The two ways to earn interest we are going to discuss, are compound interest and simple interest.
Simple interest is, well, pretty simple. Simple interest is adding the same amount of interest every time with the amount of savings/money that started the account. Let me give you an example. Let's say that I opened savings account with STAR Credit Union and they had simple interest (which they don't). My starting deposit, or principal balance, would be $100. The next year, I would receive 5% interest on my account of $100, which means I would get an additional $5 added to my account. Because the interest that I received was simple, I would be receiving the same amount of money ($5) each year no matter what.
Compound interest is a little more complicated, but as you will see, means more money…for you.
Compound interest generally means that you are earning interest on the money/capital you have been saving, AND you will also earn interest on the interest that gets added to your account.  Lets keep my hypothetical account with the starting money and the same interest rate of 5% just that this time we are going to try compound interest instead. After another month of having my savings account I will receive the 5% interest deposited to my account now I have $105 in my account. After the next year the interest would cover my account again, but this time it will add the 5% interest to the $105 that I now have in my account, which adds $5.25 to my account. I'd then have $110.25. The next year 5% will be added to that $110.25, and so on, and so on… giving me a slightly higher balance each year. Basically your money that is in your savings account is working harder for you, generating more money. It doesn't seem like much at first, but after 5 years, your compound interest would have made you $60 more than the simple interest.
The most important thing to know is that compound interest means more money for you. So when you are EARNING money, like in a savings account, certificate of deposit, or interest bearing checking account, you want to find an account with compound interest. On the other had, if you are BORROWING money you want to try to find an account that uses simple interest; but we can talk more about that at another time…